Ogham from west side of Kootenay Lake, near Proctor, British Columbia

A picture of what looks like a fox appears along with the ogham letter "C". This could be Celtic for "dog", CU, minus the final vowel. Fox, for instance, is "red dog", in Gaelic.

The ogham," S.S.L", is accompanied by a line of points. The translation "rain" has been offered and this may be so. Or it could also he read as "iS SáiLe é", meaning, "it is salty", a warning, perhaps, of brackish water.

Moira Farrow of the Vancouver Sun wrote about the work of John Corner in her feature, "The Ogham Clue", March 18, 1983.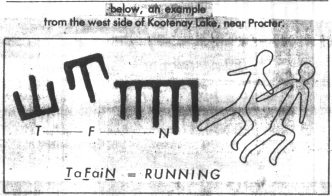 Legend: T_F_N , TaFaiN = Running (Irish)