Fig. 74: Spiral Fylfot, from a Gotland Stone, Scandinavia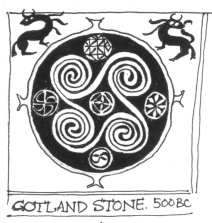 Fylfot spiral pattern from Gotland
The fylfot symbolizes of the four directions of the terrestrial cross as it turns around the pole. It also describes a journey on all sides of a sphere, such as the movement of the first people around the world, emanating from a common origin. This was the meaning of the symbol among the first peoples of the American Southwest, the Anasazi. Originally the emblems of stone-age traveling people, such symbols have migrated throughout the world from earliest times.
In addition to the fylfot, the S-scroll is another symbol that has traveled all over the world. Similar patterns are found both in Celtic Britain and in South America.
Fig. 75: S-scroll, Silchester, British Celtic

Fig. 76: S-scroll, Panama, Cocle