Fig. 73: Mogollan Pitcher Pattern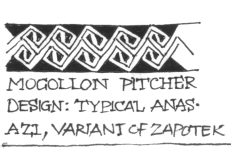 Comparing the similarity of these patterns frm either side of the Atlantic begs the question if there could have been contact between Ireland and Meso-America such as that suggested by the legend of St Brendan. Could there have been a pre-historic Sea People who once built the megaliths of the Atlantic coast of Europe, displaced by the Indo-European warrior aristocracy, whose final resort was the sea, such as the Irish legends concerning the fate of the Tuatha De Danaans attest.
With the rise of Bronze Age civilization in the Middle-East, the Sea People may have entered the course of history as suppliers of ore from America, as culture bearers in the Gulf of Mexico, and as the mysterious "pre-human" inhabitants of Ireland, the De Danaans, a race of shining immortals who resided in the Blessed Isles in the Remote West, and who on occasion are said to have returned to Ireland, to steal away the early heroes to the Land of Summer.