What's the point of drawing patterns
here in a doomed culture
on an endangered world
in the face of a righteously angry fate?
Draw the point into a line
like a smith making fine wire,
a saint illuminating the word
or an angel treading the path.
Throw the line in coils around you
like a silver or gold net
of protection, of spiral beauty,
mapping the life-flow,
swirling in the current
of the stream between the stars,
rotating onward as a tendril twists
without end in the rolling ring
of lives and lines and seasons.
Connect one bit with another:
let both line and void, dark and light-
lively, shifting, classic and ever new-
speak their parts, mark their borders,
spin always towards that centre point
where time and space intersect
at the here and now.
at forever and always.
Poetry copyright Rebecca Gilbert 1982
_______________________________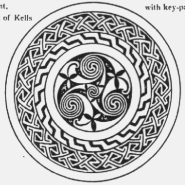 Fig. 24: Spiral Roundel in Maze-pattern Bezel, by J. Romilly Allen, Celtic Art in Pagan and Christian Times, London 1904