Fig. 60: Basic Maze construction from Stick Figure, Val Camonica, © Aidan Meehan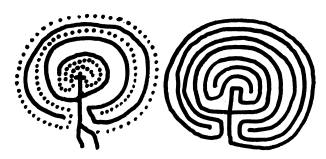 Looking again at the little stick-figure enveloped in the coils of the serpent, we now see he is clearly referring us to the Classic maze, which so far as we know did not enter into Greek usage till a millennium later! Moreover, the snake emerges from his belt, and neither is doing any harm to the other. There is a story, the Cattle Raid of Friach, in which the Ulster hero, Conal Cernach, the "Pointy-headed" or "horned" Conal, enters a fortress, aided by a woman (like Theseus) and overcomes a mighty Serpent, which slides into his belt, and after he has taken the hero's portion of the dragon's treasure it slides out again and they part the best of friends, hardly in the Greek tradition! The action, I wish to point out, is said to have taken place in the Alps. I think we can now guess whereabouts ...in Val Camonica.
Fig. 61: Geometry of Petroglyph, Val Camonica, © Aidan Meehan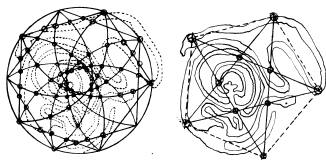 Pentagon geometry of Humanoid/Serpentine glyph, tracing from figure illustrated on page 121, above.