Fig. 54: Basic Mazes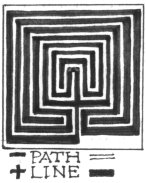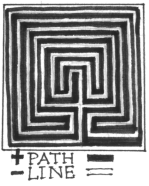 While clearly the Val Camonica maze is the basic maze, the fact that you trace the path below the surface of the rock face presents a problem, because the eyes give more importance to the negative cut out than to the actual construction of the design.


Here are two coins from Crete (viewed upside down, inscription reads KNOSION in Greek characters: Knossos was the capitol of Crete). The square one is from the first century BCE. The round one is about a thousand years older. The maze in this form was the national emblem of Cretan civilization, for a thousand years, at least. The name Cretan Labyrinth has therefore been given to it. Yet if we take the Val Camonica maze and tidy up the lines so that they become of uniform width we can plainly see that we have a Cretan maze in negative.